We will forever boast that koh Lipe possesses some of the world's best beaches. Famous for its clean white sand and marvelous snorkeling.
Pattaya beach
In the evenings, teems of Chao Ley children come down to cast their flies from the floating piers, and many of the villagers visit Pattaya to harvest crabs to be used in local Thai dishes. Dotted with wonderful thatch-roofed restaurants, massage parlors and spas, reggae bars, and quaint beach cafes—long tail boats idyllically anchor off shore—Pattaya is well-known as "The Postcard of Lipe."
Along with beach combing and snorkeling, Pattaya offers a range of daytime activities, such as volleyball, frisbee, and kayaking, not to mention long naps in the hammocks under the palms. With ready access to the rest of the island, Pattaya is ideally located for those who want to explore all that Lipe has to offer.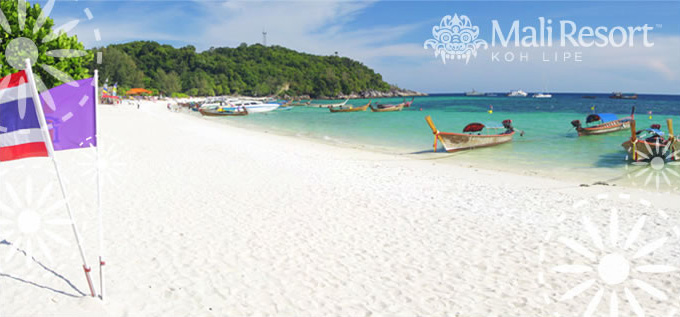 Sunrise
Sunrise Beach has the longest stretch of coast, running from Andaman Resort all the way to Serendipity. While the beach itself is rather narrow and steep compared to Pattaya, the snorkeling is brilliant and there are stunning views of the neighboring mountain island of Koh Adang.
Back in the day, Sunrise Beach belonged to the backpackers, and while deals can still be found, Sunrise (also called Chao Ley Beach due to its proximity to the indigenous Chao Ley village) now caters to a broader populous that inhabit the trendy bungalows crowding the shoreline. The bars still possess that easy island vibe, providing great food and cold beer on the cheap. Make sure you also visit the Chao Ley village to get a peek at local life.
Coupled with unobstructed views and wonderful snorkeling, the lengths of Sunrise Beach is a lovely way to spend the day.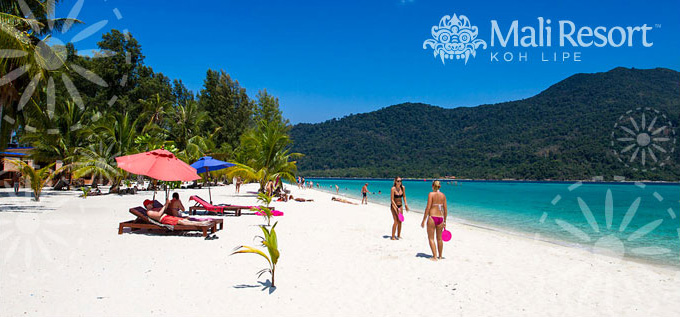 Sunset beach
A five minute stroll behind Mali Resort lies Koh Lipe's best kept secret: Sunset Beach. Located on a secluded lagoon with boulders pebbled out into the water, and slightly hidden from the rest of Lipe, Sunset provides unbelievable views of Koh Rawi as well as Koh Adang. An ideal place to pack one of our specialty lunches, roll out the beach towels, grab the snorkel gear, and swim the afternoon away.
In contrast to the relative wealth one finds on Sunrise, Sunset beach is a bastion of inexpensive hospitality and relaxing chill out bars that won't break the bank.
And did we mention the poetry of the actual sunset? Vivid and radiant, a spectacular show of colors setting on the horizon.