Mali Resort is comprised of two complimenting styles of villas.
From traditional architecture and popular modern designs to luxurious comforts and tropical charms Mali Resort brings a unique blend of style inspired by the enchanting culture, warm hospitality, and natural beauty of Thailand.
Balinese Luxury Bungalows
Indulge yourself in the best Koh Lipe has to offer. Our Bali-styled rooms are crafted to fulfill your every desire. These lavish freestanding bungalows are characterized by handwoven thatched-roof, vaulted ceilings, hardwood floors, and wall to wall sliding glass doors. Divided into two ample spaces, our bedroom is endowed with Five-Star bedding, air conditioning, TV/DVD, and complimentary wi-fi. A specially designed and decorated open air bathroom with twin vanities, hot water, and a garden rain shower make this a truly one of a kind tropical island experience. Each of our spacious dwellings are conveniently located, with fantastic ocean views.
Garden Wing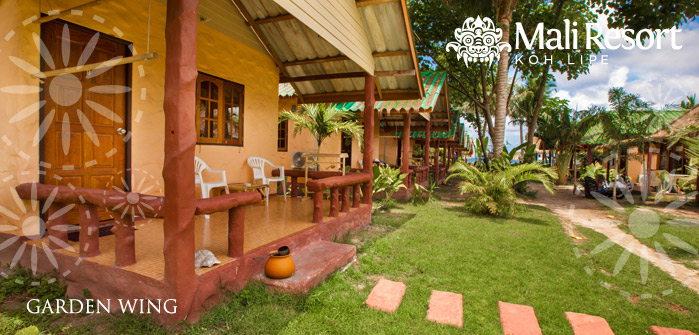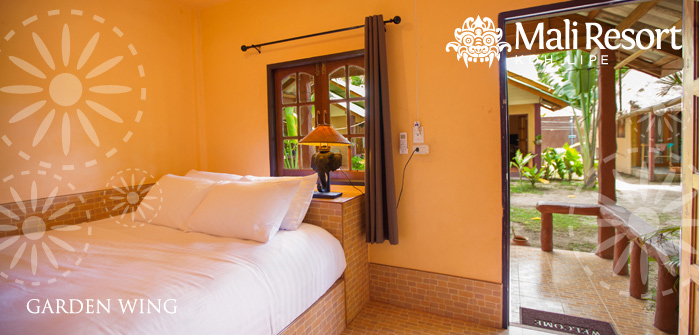 Each Individual cottage is designed with hardwood floors, high ceilings, and sliding glass doors. The bungalows come equipped with the same Five-Star bedding featured in our Villas, sun blinds, and a powerful air-conditioning system. As with all our units, we strive to facilitate a deep, peaceful night's sleep despite the heat of the tropics. Other amenities include TV, DVD, clothes rack, reading lamp, plus a large, clean, indoor bathroom with excellent water pressure. Built right off the sands of the Andaman, intimately tucked into lush tropical setting, yet allowing our guests direct beach access.