The waters surrounding Koh Lipe offer some of the best sport fishing in Thailand. Every year, people return for a month just to cast their lines.
For those looking for fun fishing experience, our guides are experts in the region and offer our guests essential expertise in methods specific to trolling the Andaman. Our guides are local Chao Ley fishermen, each with a lifetime of experience in the native waters. These guys know when to go, where to fish, and what to catch: Spanish mackerel, barracuda, grouper, snapper, and sail fish.
Local guides arrange the boat, check the tides, and provide the tackle, lures, and poles. We pack you a delicious lunch, a cooler of cold beer, mineral water, and other necessities.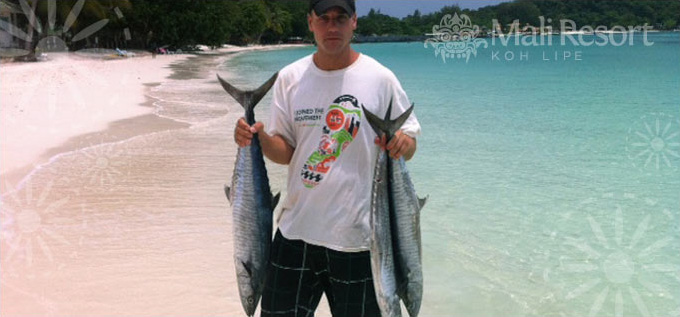 Testimonial One
The fishing trip Mali Resort offers is a lot of fun. We got picked up right in front of the resort by an authentic Thai fishing boat driven by an extremely friendly local fisherman.
Not only did we catch two enormous King Marlin, but the experience of cruising through the Andaman Archipelago looking for the fish is spectacular. It´s one of the most beautiful places I have ever seen.
Thanks again guys from Mali Resort!!!! I loved it.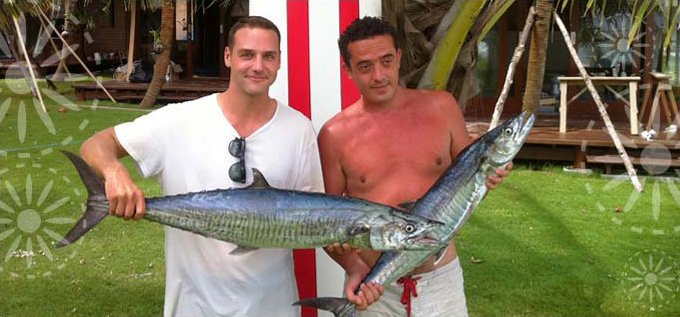 Testimonial Two
I was fortunate eneough to happen across the gents from Mali resort who, when asked were able to accommodate my request for a trip around the islands in search of a fish or two. Mali resort had all the rods/tackle at his disposal, so no issues on that front. They also sorted the food and drink for the time we were at sea.
The Captain arrived at about 7.30ish and we set off pretty much immediately. Now, I had been warned that the chances of catching a fish were 50/50, so it was with high hopes that we set off on a typical Andaman morning-calm seas, with a few clouds in an otherwise clear sky. We started to trawl and wait for a bite. After about an hour of taking in the scene and chatting, the reel started to sing, and we had our fish on our line. 10 minutes later, we had landed a spanish mackerel wieghing about 4-5 kilos.
The rest of the morning was laid back. We stopped to swim, had beers and ate. I guess the fish were doing the same as we didn't manage to land any more that morning.
When we returned we gave the fish to khun Aom, who had kindly offered to cook up the mackerel. So, upon returning the next day we were treated to a real feast of various Thai fish dishes including fish in curry, fried fish and a delicious soup that was excellent.
The day was laid back and well organized. A perfect fishing trip.